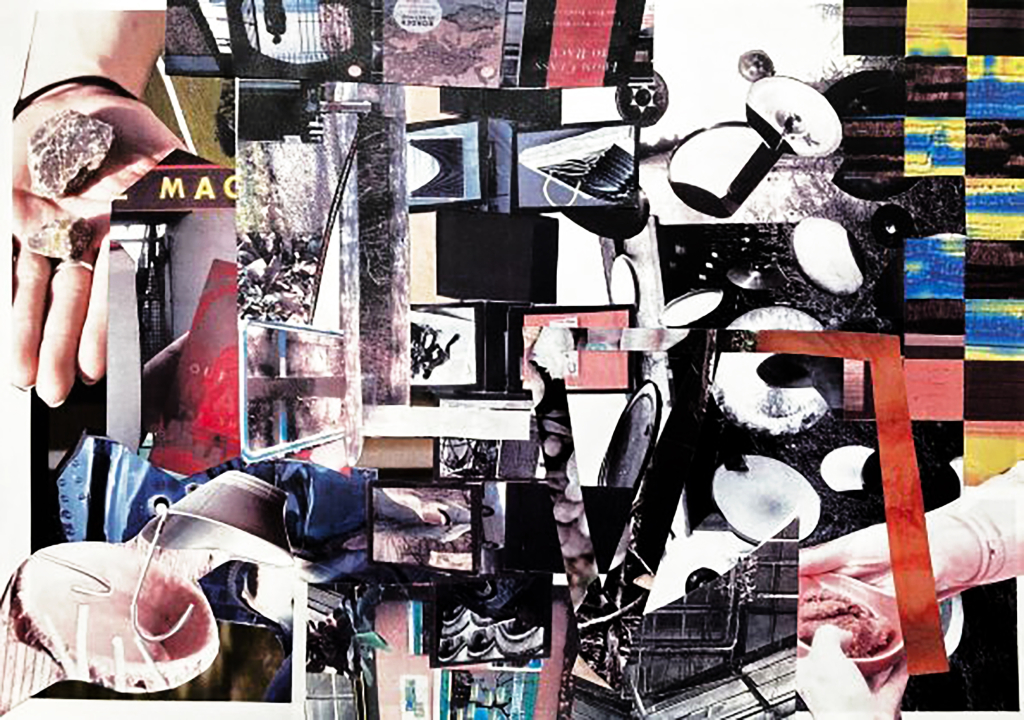 Incarceratedly Yours, this semester's Art Based Investigation will temporarily transform itself into an art and research experiment connecting art, architecture, social distance and community within the construction of two socially-specific artistic projects. The projects ask: What is art that "takes on a social responsibility for itself" (Werner Fenz) and engages in a dialogue with citizens? The art projects will be realised in both a physical (Art in public space today) and a digital form (Shelter).
Shelter (in collaboration with Grazer Kunstverein)
Inspired by Constant Nieuwenhuys' anti-capitalist speculative city New Babylon, imagined as a series of linked transformable structures perched in the sky leaving the bourgeois metropolis below, Scottish/Danish artist Edward Clydesdale Thomson and Ahmad Darkhabani production assistant at Grazer Kunstverein, invite students to come together in a virtual space in order to test concepts for the term "shelter" and the construction of a shack against the backdrop of increasing social distance and isolation. From a wind barrier to a safe space of asylum, each shelter is different and each shelter is conditional, but can a shelter also be a meeting point? The group will, together in virtual space, construct one hybrid shelter out of their collective experience. What form might an online shelter take? How would the idiosyncrasies of its vernacular be articulated? What are you sheltering from and with whom do you seek refuge? From our locked down apartments, we sensed an opportunity to open up access to the project. In doing so, our question shifted from what a shelter represents for us individually to what a shelter could mean as a way (possibility) of coming together.
Students will collectively imagine, design and build a digital space that explores the concept of shelter in this present moment. This artistic project is guided by Edward Clydesdale Thomason and Ahmad Darkhabani, in collaboration with a virtual developer, in collaboration with Grazer Kunstverein over an online gaming platform (Unity) and via Zoom. The result will be the creation of a collectively devised virtual space that acts as a hybrid shelter, giving form to ideas and providing a virtual meeting point for all participants.
Art in public space today (in collaboration with Culture Department of the City of Graz)
In this project, students will actively engage in the new Werner Fenz prize for an artistic project in public space. The winner of the prize (scholarship) will be announced during the course by the Culture Department of the City of Graz. The public art project will respond to decisive reflection and impulses for the development of public space. It will reflect on processes of social transformation, the idea of how art relates to social responsibility, and its power to stimulate dialogue.
Students will take part in producing a temporary art project where the conceptual strategy is geared towards infiltrating everyday urban life and engaging with existing public systems. The signs and actions of this public urban art will relate to economic, political, social, ecological or architectural-urban planning situations. The project will be anchored in public space and implemented in the city of Graz and should contribute to the discourse on current forms of art in public space.
Within the course, students will take part in the various processes of an art-production. They will be engaged in project production and theoretical reflection of the selected project.
Edward Clydesdale Thomson (b. 1982) is a Scottish/Danish artist based in Rotterdam. He is head of Fine Art at BEAR, ArtEZ Arnhem. He has exhibited at the Museum Boijmans van Beuningen, Rotterdam, the Irish Museum of Modern Art, Dublin, and the Malmo Konstmuseum, Malmo. He is a graduate of the MFA program at the Piet Zwart Institute, Rotterdam and the BArch program at the Glasgow school of Art. He was resident at the Rijksakademie van Beeldende Kunsten, Amsterdam (2011–12). In 2011 he was awarded the Lecturis Award and nominated for the Prix de Rome. Notable solo shows include "causa finalis" (2012), Galerie Fons Welters, Amsterdam, "wild care, tame neglect" Frankendael Foundation, Amsterdam and "Nothin Shakin but the Leaves on the Trees" Marabouparken konsthall, Stockholm.
Werner Fenz Scholarship for Art in Public Space. To honour the achievements of art historian and curator Werner Fenz (1944-2016), the Culture Department of the City of Graz has established a working scholarship for art in public space, which will be awarded every two years commencing in 2020. The initiative for the scholarship came from an international committee made up of over 200 artists, curators and journalists and other representatives of the art world. 
As an internationally successful curator and art educator, theorist and university lecturer, as a member of numerous expert panels and also as founder and director of the Institute for Art in Public Space Styria (2006-2011), Werner Fenz lived the synthesis of theory and practice at an uncompromisingly high and exemplary level, continuously refining the profile of art in public space both in and from Graz.