After a preparatory artistic research on the topic of migration and relational/ dialogical works, students were invited to join one session of the project "The Samovar Café" – a pop-up space for gathering and exchange, where in a comfortable atmosphere people share time, activities and food in <rotor> centre for contemporary art. The Samovar project aims the creation of a temporary space of togetherness, simultaneoulsy being an exercise to de-construct prejudices and erase frontiers, which was a great opportunity for students and newcomers to initiate a dialogue.
Building on this safe space of mutual trust created before hand, the Architecture students and the "Graz-Neuhart community" met then regularly, in order to get to know each other, while experimenting with different forms of verb an and non-verbal dialogues. These conversations opened up various directions, and one of them was that a space of togetherness with people of different ages and cultural backgrounds can also be built without walls, but with meaningful gestures. In this process, when the Architecture students were asked to conceive a "gathering space" that can bring multigenerational and multicultural groups together, some conversations with the colleagues from Syria and Afganisthan about their homes and living habits led them to come out with a collective proposal of designing/ weaving a carpet or a "Live Carpet", as they called it - as a possible "enacted gathering space" for the Steirischer Herbst festival.
Yet, due to the complexity of the task and the constraint of time, each participant received a A4 piece of cloth to embroider or to screen print an image or a word that was meaningful to the person during the process. These pieces should become a carpet, a patchwork of memories of the moments spent together. Finally, the pieces became cushions and small blankets used as decoration pieces in the House of Open Gates, during the Steirischer Herbst Festival in the following Autumn. Many of the participants helped further in the design conception and actual building of the furniture of the House, extending the process of exchange and dialogue throughout the year.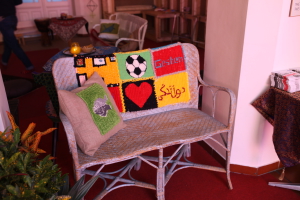 Participants:
Ali Sina Muradi, Anisa Jafari, Asef Hossini, Asib Afzali, Belinda Kraxner, Bernhard Helfried Ogrisek,
Carina Zangerle, Daniyal Ataye, Faia Amona, Fateme Bakhtiyari, Georg Scherrer, Gernot Bergant,
Gülüstan Polat, Hamid Ahmadi, Hayfa Muhamed, Iris Mlakar, Isa Jollings, Isabella Fuchs, Ivana Gavranović, Jacqueline Maria Wuitz, Katharina Bianca List, Lisa-Maria Albrecht, Lisa Suppan, Mahtab Azimi, Marilena Strasser, Matthias Kulterer, Mina Živković, Mohamad Kabir Ahmadi, Mohamad Reza Ahmadi, Mona Amouzadeh-Ghadikolai, Naser Bakir, Patrick Vinicki, Saber Jafari, Sekvan Muhamed, Zahra Hossini
Students reports:
"I was often asked by my colleagues what we're doing in ESPEZ and I told them all the things of having a good time with the refugees. Most of the reactions in the beginning where whats going on? You guys are having a good time and that's it? We are developing this and that and so on. I always tell them how happy I am for them to create another cool projects, parallel to two others we have every semester. I never judge and say this is good and this is better, I just mention how grateful I am that this kind of course is offered at our university and that I've chosen it for my personality. I would have never get into contact with refugees, I would have never widen my horizon, I would have never known that there's no difference in age, gender, education and wealth when it comes to people who have to flee in order to stay alive. I would have never known that much about the political situation in Europe and Syria, I would have never followed the Austrian president's elections that much, I would have never known how much potential Austria can offer in order to help others.
Now i know."
Georg Scherrer > full report (english)
Katharina List > full report (german)
Save
Save
Save
Save
Save
Save
Save
Save
Save
Save
Save
Save
Save
Save
Save
Save
Save