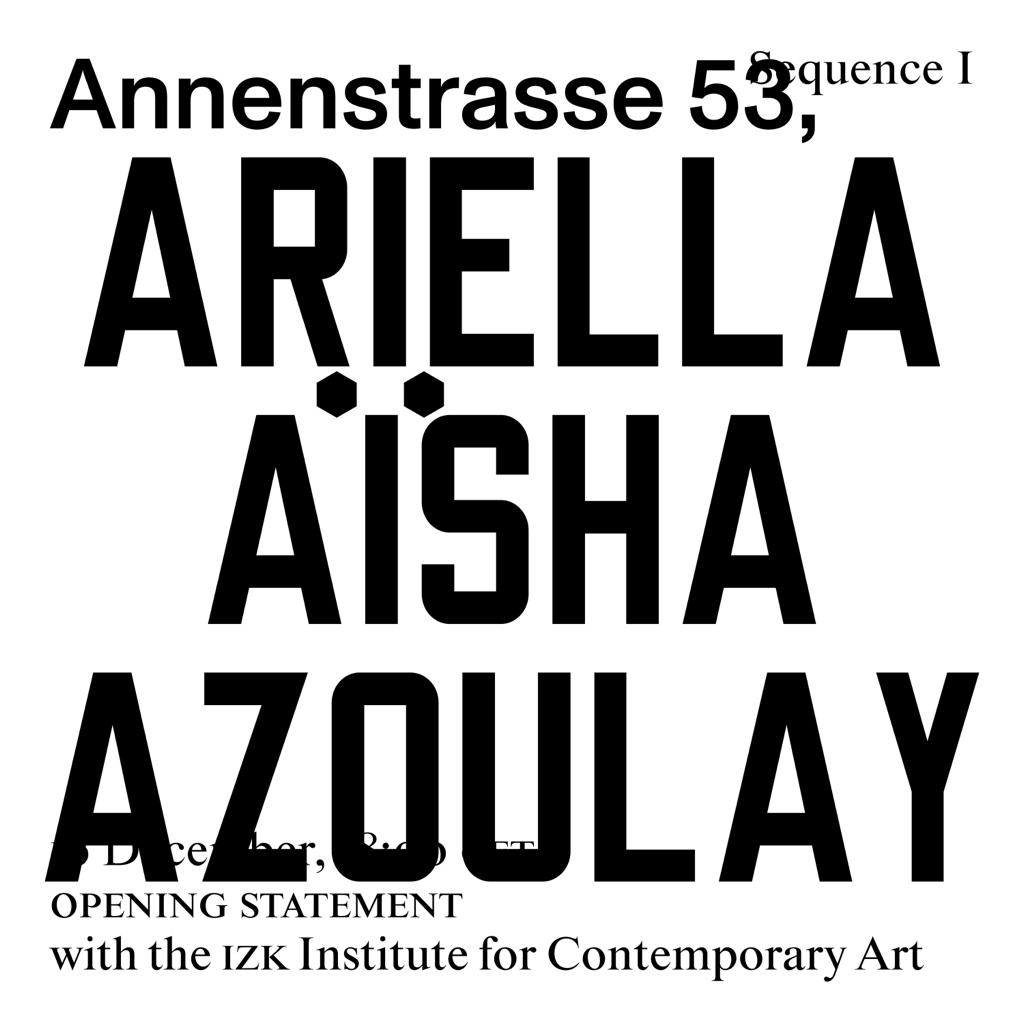 Please join us (online) for a conversation with Ariella Aïsha Azoulay and Wayne Modest.
 
Wednesday 16 December, 18:00 CET
>> REGISTER A link to the Zoom meeting will be sent to all registered participants the day before the event.
Annenstrasse 53 is an independent Exhibiting Space that, in conversation with local institutions, artists and architects, is actively working towards a praxis that questions norms and encompasses a process of 'unlearning' within teaching, research, artistic production, and exhibiting. As a pivotal step to establish and articulate this praxis, we announce the Opening Statement of this space. Azoulay will introduce and discuss her book Potential History: Unlearning Imperialism (2019), as well as her film Un-documented: Undoing Imperial Plunder with scholar and author, Wayne Modest. The online screening of the film will be an entry point for this conversation.
 
Azoulay argues that the institutions that are constitutive of our culture and civilization, from archives and museums to ideas of sovereignty and human rights as well as history itself, are all determined by imperialist logics. She writes, 'Imperialism has segmented populations into differentially governed groups, continually emphasized the possibility of progress while it tries to destroy what came before, and voraciously seeks out the new by sealing the past away in dusty archival boxes and the glass vitrines of museums.' We ask what kind of understanding and approach to an archiving practice can 'unlearn', and even 'reverse' the dominant and imperial modes of engagement that determine our professional habitus and existing practices in photography and archival work?
 
Azoulay's film Un-Documented shows that there is a strong connection between the plundered objects in European museums and the calls of asylum seekers trying to enter the countries of their former European colonizers: these are twinned migrations. The first migration is of the objects, generating professional care, scrupulous documentation, and generous hospitality in museums and archives: they are the (relatively) well-documented. The second migration is of people who do not have the documents that would allow them access to care and hospitality, and the documents they need to rebuild their homes and worlds.
Ariella Aïsha Azoulay is Professor of Modern Culture and Media and the Department of Comparative Literature, Brown University, as well as being a curator and filmmaker. Her work focuses on the violence of imperial boundary making and suggests a hitherto underrecognized relationship between documented cultural artifacts and undocumented migrants. Her recent books include Potential History: Unlearning Imperialism (2019); Civil Imagination: The Political Ontology of Photography (2012); From Palestine to Israel: A Photographic Record of Destruction and State Formation, 1947-1950 (2011); and The Civil Contract of Photography (2008). She is the curator of Errata, Fundació Antoni Tàpies, 2019; Act of State 1967-2007, Centre Pompidou, 2016; Enough! The Natural Violence of the New World Order, F/Stop festival, Leipzig, 2016; and The Natural History of Rape, Pembroke Hall, Brown University, 2016.
Wayne Modest is the head of the Research Center of Material Culture in the Netherlands, and professor of Material Culture and Critical Heritage Studies (by special appointment) in the faculty of humanities at the Vrije Universiteit, Amsterdam (VU). He has held visiting scholar positions at the Yale Centre for British Art, Yale University and the School for Museums Studies, New York University. Modest's work is driven by a concern for more historically contingent ways of understanding the present, especially in relation to material culture/museum collections. His research interests include issues of belonging and displacement; material mobilities; histories of (ethnographic) collecting and exhibitionary practices; difficult/contested heritage (with a special focus on slavery, colonialism and post-colonialism); Caribbean Thought. More recently Modest has been researching and publishing on heritage and citizenship in Europe with special attention for urban life, and on ethnographic museums and questions of redress/repair. He has published Museums and Communities: Curators, Collections, Collaborations (Bloomsbury Academic Publishers, ed. with Viv Golding, 2013) and Museums, Heritage and International Development (Routledge, ed. with Paul Basu, 2013), as well as, 'We've Always Been Modern: Museums, Collections and Modernity.' Museum Anthropology 35 (1) 2012, among others.
 
The Opening Statement of Ariella Aïsha Azoulay is translated into an exhibiting format at Annenstrasse 53 and will continuously develop over the course of the next weeks.
 
Annenstrasse 53 will be open by appointment from 18 December until 7 January. Please email: milica.tomic(at)tugraz.at.
 
The online event and exhibiting format is hosted by Annenstrasse 53.
 
Organized by Rose-Anne Gush, Philipp Sattler, Simon Oberhofer, Milica Tomić, Anto Petrusic, Otto Kaltner, Anna Schoissengeyer. 
 
In conversation with Sans Souci Collective; Institute for Art in Public Space Styria, Universalmuseum Joanneum; and steirischer herbst.
The event is financed by the State Government of Styria, Department 9 Culture, Europe, Sport in the framework of Exhibiting Matters.Triangulation, the latest installment of the IZK Lecture Series.