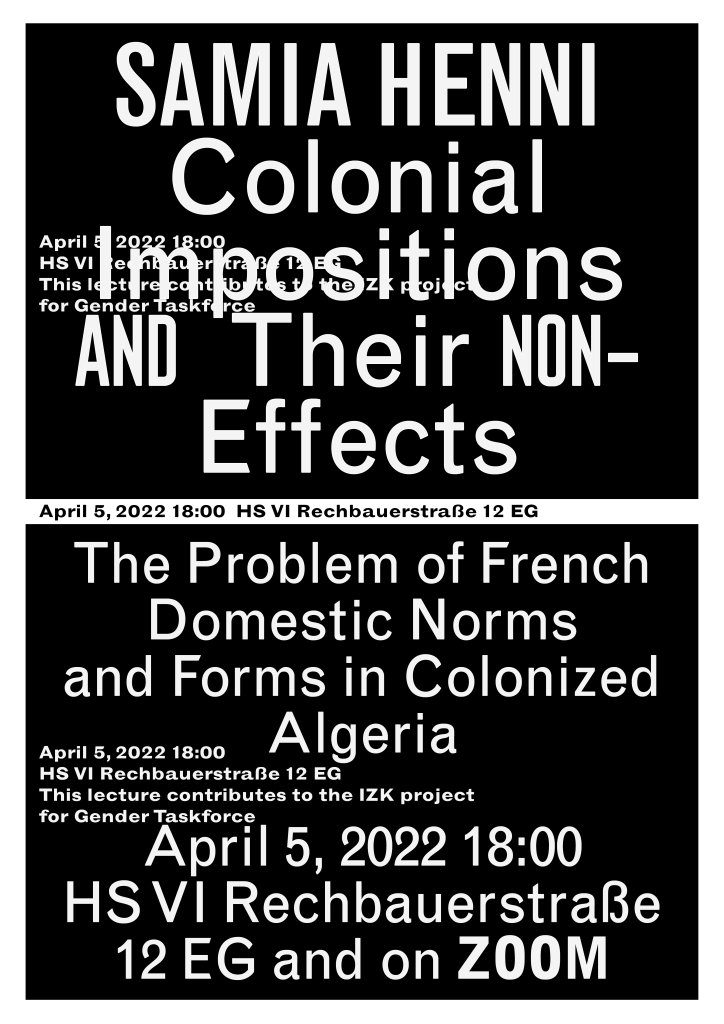 Samia Henni
5 April 2022, 18:00 CET
HYBRID LECTURE at HS VI, Rechbauerstraße 12 and online 
During the Algerian Revolution, or the Algerian War of Independence (1954–1962), the French colonial authorities launched a colossal socio-economic development plan in colonized Algeria, which included the construction of housing for one million people. Algerian women called "Muslim women" were taught the way to settle in and adapt their new domestic space to French requirements designed by the colonizer, as well as how to allocate the family budgets for household expenditures. Algerian women were expected not only to accept the modifications of the spatial configuration of their domestic spaces, but also to disremember their ways of living, which the French deemed to be inappropriate. To achieve its goals, the French authorities created special military and civil units and hired French women from France to "discipline" Algerian women. This talk explored the processes with which the French colonial regime imposed specific domestic norms and forms on Algerian women during an armed conflict.
This lecture contributed to the IZK project for Gender Taskforce at TU Graz.
Samia Henni is a visual and textual practitioner of the history of the built, destroyed and imagined environments produced by processes and mechanisms of colonization, forced displacement, nuclear weapons, resource extraction, and warfare. Her research has culminated in the award-winning book Architecture of Counterrevolution: The French Army in Northern Algeria (EN, gta Verlag, 2017; FR, Editions B42, 2019), the edited volumes War Zones (gta Verlag, 2018) and Deserts Are Not Empty (Columbia Books on Architecture and the City, 2022), as well as exhibitions such as Archives: Secret-Défense? (ifa-Gallery/ SAVVY Contemporary, Berlin, 2021), Housing Pharmacology (Manifesta 13, Marseille, 2020), Discreet Violence: Architecture and the French War in Algeria (2017–2019; Zurich, Rotterdam, Berlin, Johannesburg, Paris, Prague, Ithaca, Philadelphia). She teaches at Cornell University and is currently the Albert Hirschman Chair (2021–2022) at the Institute for Advanced Study (IMéRA) in Marseille.