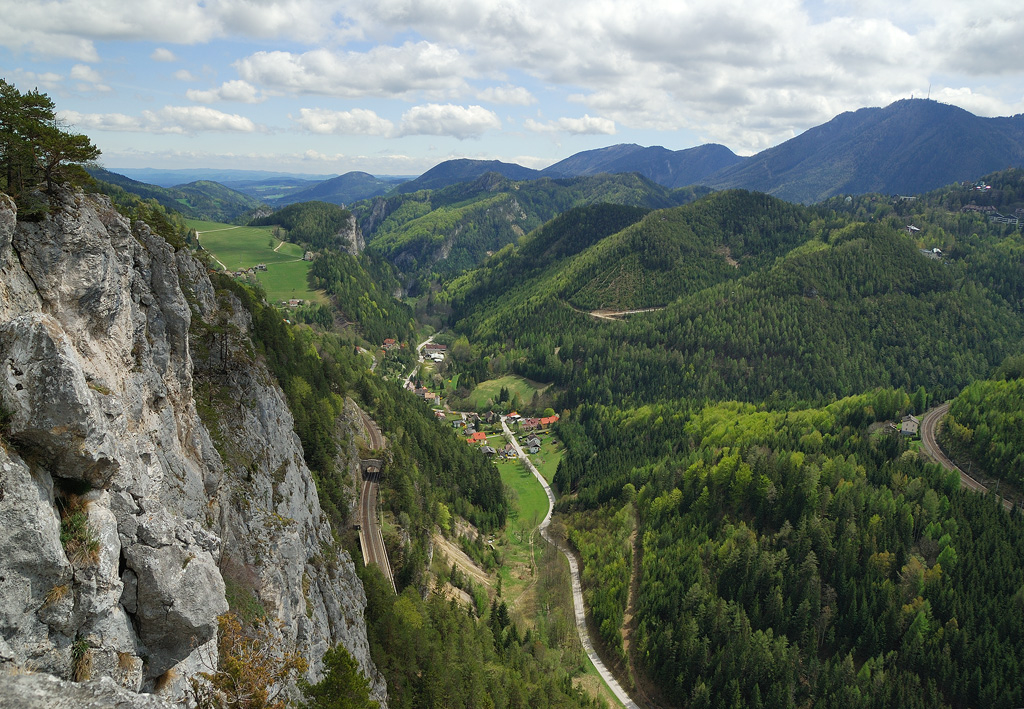 In 1854 rough nature and sublime landscape in and around Semmering became easily accessible for the first time. First developed as the exclusive tourist resort, the site has lost some of its splendor after WW2. The development in the last 150 years has shaped nature, carefully constructing the sublime image of the 'pristine and untouched' nature. The environment built for leisure can be seen as the materialization of the class struggles and social hierarchies of that time, but it also speaks about the contemporary societal relations:
among classes and among humans and nature. The sublime landscape is built and determined by property and class relations. These define also the relation towards nature, which only seems to be a backdrop, a set for the theater of societal hierarchies to unfold.
When the Semmeringbahn railway was declared a UNESCO World Heritage Site in 1998, ''the mountain became a topos belonging to all of humanity.'' Taking this notion as the starting point, the project explores what it might mean for something to ''belong to everyone'' and examines the current state of affairs on the Semmering against the background of a history of projections. Semmering as an image and physical infrastructure, both as a landscape and built environment will be the focus of the master studio project The Sublime Landscape and its Relation to Labour
Using artistic investigation as the basis, the studio will explore how regulations and deregulations define the spatial and institutional programs of nature, art, and architecture. Who services and what is being serviced? Which previous users are forgotten and their
property never acknowledged? How to make relations that make Semmering possible visible, understandable, and how this schism can guide the future of Semmering, as it tries to transform for something other than the nostalgia of a "good life" for few at the expense of
many? Can we, through exhibiting, investigate Semmering, looking for all the symptoms and forms of this specific contemporary condition of late capitalism? What does it mean to make all these relations tangible by exhibiting them in Semmering? The students' engagement
with the Semmering will result in an exhibition that will take place in Semmering at the end of the semester and will then move to Graz for the Sommerfest. The exhibition will be a part of the larger artistic project "Land, Property and Commons" initiated by the curator Hedwig Saxenhuber.
---
Course Guests:
Ana Bezić
Branislav Dimitrijevic
Dr Branislav Dimitrijević is Professor of History and Theory of Art at the School for Art and Design and also teaches at the Curatorial Practice course at the Belgrade University of Arts. Main field of his historical research is visual art, popular culture and film in socialist Yugoslavia, as well as history and theory of avant-garde art in the 20th century. In the last twenty years he has written and edited numerous books and catalogues including On Normality: Art in Serbia 1989-2001 (MOCA Belgrade, 2005) and most recently Goran Djordjević - Against Art (MOCA Belgrade, 2014). Dimitrijević holds an MA degree in History and Theory of Art from the University of Kent (UK), and has received his PhD in Interdisciplinary Cultural Studies from the University of Arts in Belgrade for the thesis on the emergence of consumer culture in the socialist Yugoslavia.
Elise Hunchuck
Elise Hunchuck (b. Toronto) is a Berlin-based researcher and designer with degrees in landscape architecture, philosophy, and geography whose work focuses on bringing together fieldwork and design through collaborative practices of observation, care, and coordination. Facilitating multidisciplinary exchanges between teaching and representational methods as a way to further develop landscape-oriented research methodologies at multiple scales, her research develops cartographic, photographic, and text-based practices to explore and communicate the agency of disasters through the continual configuring and reconfiguring of infrastructures of risk, including memorials, monuments, and coastal defense structures.
Elise is a Tutor of Architecture Design Studio at the Royal College of Art, London, UK. A University Olmsted Scholar, Elise was recently a finalist for the 2017 Maeder-York Landscape Fellowship at the Isabella Stewart Gardner Museum (Cambridge, US) and a research fellow with the Landscape Architecture Foundation (Washington DC, US). Her writing has appeared in The Funambulist and her research has been featured on BLDGBLOG. She has taught representational history and methods in the graduate architecture, landscape, and urban design departments at the Daniels Faculty of Architecture, Landscape, and Design, University of Toronto (Toronto, CA) and has been an invited critic in the undergraduate and graduate programs at the architecture, landscape, and urban design departments at the Daniels Faculty and the School of Architecture at Waterloo. Elise is also a member of the editorial board of Scapegoat Journal: Architecture / Landscape / Political Economy.
Nina Kolowratnik
Nina Valerie Kolowratnik is an architect and researcher currently based in Vienna. Her practice is situated in the context of forced migration and cultural claims to territory and develops spatial notational systems that operate within human rights debates. Since 2014 she has been teaching graduate courses on borderlands, migration and counter narratives at Columbia University Graduate School of Architecture, Planning and Preservation (GSAPP) and TU Vienna. Kolowratnik holds an MArch from TU Graz and a MS in Critical, Curatorial and Conceptual Practices in Architecture from Columbia University.
Wolfgang Kos
Wolfgang Kos studierte an der Universität Wien Geschichte und Politikwissenschaften und befasste sich als Radiojournalist, Buchautor, Ausstellungsgestalter und Historiker vor allem mit der Alltagsgeschichte und der Geschichte popkultureller Phänomene. Er baute ab 1968 gemeinsam mit Richard Goll, André Heller, Michael Schrott, Alfred Treiber und anderen die legendäre Ö3-Radiosendung Die Musicbox auf. In den 1970er Jahren schrieb er für die Österreich-Beilage bzw. den Österreich-Teil der deutschen Musikzeitschrift Sounds und gründete 1972 die Ö3-Musiksendung Popmuseum. Anfang der 1980er Jahre wurde Kos Leiter der Musicbox. Damals begann er auch mit der Entwicklung einer neuen Sendereihe für den Radiosender Ö1: Gemeinsam mit anderen schuf er 1984 die Ö1-Sendung Diagonal – Radio für Zeitgenossen, deren Leiter er lange Zeit war. 1982 nahm er unter dem Bandnamen Leider Keine Millionäre mehrere Singles auf (Was zählt, Wer nicht weggeht etc.). Die Band nannte sich nach einem Zitat des SPÖ-Finanzministers und Vizekanzlers bis 1981, Hannes Androsch, er sei leider kein Millionär. 1983 bis 1991 veranstaltete Kos gemeinsam mit Edek Bartz das Wiener Avantgarde-Musikfestival Töne und Gegentöne. Seit den 1990er Jahren gestaltete Kos regelmäßig die Ö1-Sendungen Spielräume und Spielräume spezial und prägte sie dadurch mit.
2003 bis 2015 war Kos als Nachfolger von Günter Düriegl als Direktor des Wien Museums, des früheren Historischen Museums der Stadt Wien, tätig. Für diese Funktion beendete er seine radiojournalistische Karriere. Im Frühjahr 2008 wurde Kos' Vertrag um fünf weitere Jahre verlängert. Im September 2015 folgte ihm, von Kulturstadtrat Andreas Mailath-Pokorny bestellt, Matti Bunzl in dieser Funktion nach.
Wilfried Kuehn
Wilfried Kuehn is an architect and curator based in Berlin and Graz. In 2001 he founded Kuehn Malvezzi together with architects Simona Malvezzi and Johannes Kuehn. From 2006 to 2012 he was professor for exhibition design and curatorial practice at the Karlsruhe University for Arts and Design where he founded Displayer, a periodical focussing on curatorial design. With Kuehn Malvezzi he earned a reputation in dealing with public space, museum architecture and exhibition design; completed projects include the exhibition design for Documenta 11 (2002), the extension of the Hamburger Bahnhof – Museum der Gegenwart in Berlin (2004), the Julia Stoschek Collection in Düsseldorf (2006), the extension and museography of the Museum Belvedere in Vienna (2009), the extension of the Museum Berggruen in Berlin (2013) as well as the extension of the Moderne Galerie Saarlandmusuem, Saabrücken (2017). Kuehn Malvezzi won the international competition for the interreligious House of One on the historic foundations of Berlin's earliest churches at Petriplatz in 2012 and for the Insectarium in Montreal in 2014. Kuehn Malvezzi's projects have been shown at the 10th, 13th and 14th Architecture Biennial in Venice and at Manifesta 7 in Trento. Kuehn Malvezzi participated in the 1st and 2nd Chicago Architecture Biennial in 2015 and 2017.
Bernd Moser
Dan Oki
Dan Oki (Slobodan Jokić, 1965, Zadar) has been making films since the end of 1980s. Besides being a filmmaker and visual artist he is also a professor of film and electronic arts. He belongs to the generation of artists who in 1990s in Amsterdam worked with experimental film and photography, made cinematographic databases and interactive video. After spending fifteen years living in the Netherlands and other countries, he returned to Croatia, where he produced and directed five independent feature films.
He has founded the Association Kazimir in Split where he has produced number of films for other artists and filmmakers from Croatia.
His films have been shown at Festivals like Motovun Film Festival, Brooklyn Film Festival, New York; International Film Festival Rotterdam; Image Forum Film Festival, Tokyo; Pula Film Festival; SEE Film Festival, Los Angeles; European Media Art Festival, Osnabruck, etc.
Dan Oki has exhibitied his works in the field of visual arts at the Museum of Contemporary Art, Zagreb, Croatia; Mejan Labs - Royal Academy of Fine Arts, Stockholm, Sweden; Museo Nacional Centro De Arte Reina Sofia, Madrid, Spain; Palazzo Pubblico, Siena, Italy; The 5th International Biennale ARTEC'97, Nagoya, Japan; Museum voor Moderne Kunst, Arnhem, The Netherlands; Museum of Modern and Contemporary Art, Rijeka, Croatia; Museum of Modern and Contemporary Art, Novi Sad, Serbia; Doulon Museum of Modern Art, Shangai, China; Kibla, Maribor, Slovenia; Smart Project Space, Amsterdam, The Netherlands; Andiamo Gallery, Marseille, France; ARCO Blackbox, Madrid, Spain etc.
He is a member of Croatian Film Directors Guild in Zagreb and of Croatian Visual Artists Association in Split.
FILMOGRAPHY
The last Super 8 film (2017), Oproštaj / The Farawell (2013), Mrak / The Dark (2011), Predstava / The Performance (2010), Zoogen (2006), Ozone 3 RGB (2005), Oxygen 4 (2004), Vice Versa (2000), Divine Beings (1998), Kućepazitelj / The Householder (1997), Dinamis (1996), Navigations (1995), Separation (1994), Noa i ceremonije na vodi / Noah and Ceremonies on the Water (1991), V moje oči letio igle / The needles are flying in my eyes (1989), Moloh (1988).
Christoph Platz
Christoph Platz studied art history and liguistics. He worked for Sculpture Projects Muenster 07, Kunsthalle Muenster as well as the Westfälischer Kunstverein and published the treatise Kunstverein im Umbruch (2011) on the development of the institution in post-war Germany (Revolver publishing house). At the LWL Museum für Kunst und Kultur he initiated with students of the local university the perennial lecture series Irgendwas mit Kunst. Besides exhibition projects in Muenster and Duesseldorf he received the EU/NRW Schloss-Ringenberg grant for curators and realized projects in Germany and the Netherlands. In 2010 he became part of the Project Management department of dOCUMENTA (13), which he headed later. In 2013 he was Head of the Exhibitions for the first edition of Bergen Assembly Triennial in Norway titled Monday Begins on Saturday. He served as independent Strategic Advisor for the initiation of the public art project Stadtkuratorin Hamburg and the Academy of the Arts of the World in Cologne. Christoph Platz was from 2014 to 2017 Head of Exhibition Department of documenta 14 in Athens and Kassel and since 2018 is Head of Curatorial Affairs at steirischer herbst.
Hedwig Saxenhuber
Hedwig Saxenhuber is an editor, writer and curator based in Vienna. She is co-editor of the arts periodical springerin Hefte für Gegenwartskunst. She was founding artistic director with Christian Kravagna at Kunstraum Lakeside in Klagenfurt from 2005 to 2015 and was also co-artistic director of VIENAFAIR 2011. Her recent large-scale exhibitions are Unrest of Form - Imagining the Political Subject with Georg Schöllhammer and Stefanie Carp at Vienna Festvial (2013); Bad Script for a Retrospectivee, Josef Dabernig at P74 in Ljubljana (2011); Grenzenlos, an exhibition for the 20th anniversary of Kulturkontakt in Vienna (2010); Art + Politics, from the collection of teh City of Vienna at MUSA (2008); Parallel Histories, 6, with Georg Schöllhammer (Gyumri Biennial, Armenia, 2008); VALIE EXPORT (Moscow Biennial, NCCA, 2007); Postorange, Contemporary Art from Ukraine at Kunsthalle Vienna (2006). She is an associated member of the Vienna Secession.